Prof. Uri Cohen
Prof. Uri Cohen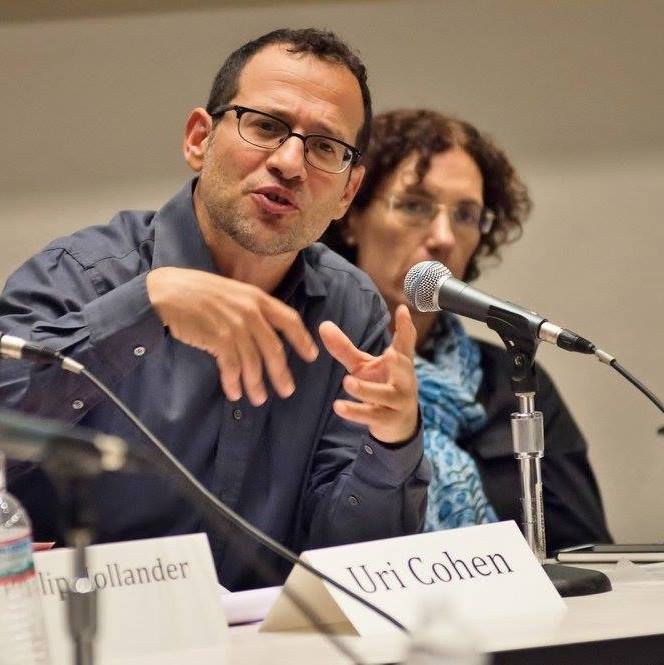 Biography
Uri S. Cohen is a Senior Lecturer at Tel Aviv University, where he teaches Hebrew and Italian literature. He served on the faculty of MESAAS at Columbia University 2004-2011 and moved to Tel Aviv through an award from Yad Hanadiv foundation.
Courses
The Security Style: Hebrew literature and Security from the forties to our times, Italy in the Twentieth Century: Literature, Cinema and Politics, Postcolonial thinking: a literary theoretical perspective on Hebrew culture in a global context, World Masterpieces of the Western World, Primo Levi: Thoughts on the drowned, the saved, love, war and writing
Publications
Books
Survival – Senses of Death between the World Wars, Tel Aviv: Resling, 2007 (Hebrew).
The Poetics of Orly Castel Bloom, Tel Aviv: Ahuzat Bait, (Series editor, Ariel Hirschfeld), 2011. (Hebrew)
The Security Style in Hebrew Literature, Bialik Institute, 2015-2016 (Hebrew, forthcoming)
Articles
"Literary Aspects of Chaim Hillel Ben Sasson on Sephardic Jews", Peamim 92, 2002, pp.149-166 (Hebrew)
"The Zionist Animal – a Study in Zionist Figures", Jerusalem studies in Hebrew Literature. No. 19, 2003, pp. 167-217 (Hebrew)
"If This is a Man, on Primo Levi's Concept of Man.", Alpaim 24, Summer 2004, pp. 100-110 (Hebrew)
"Agnon's Modernity", Modernism/Modernity, Vol. 13, no. 4 (2006) 657-671.
"Grief and Bereavement in the National Library – a Study of Nation Attributed Death in Hebrew Literature", in Avriel Bar Levav (ed.), War and Peace in Jewish Culture, Jerusalem: Zalman Shazar, 2006, pp. 277-312. (Hebrew)
"The Misprision of Alterman's Early Prose: A Study in the Cultural Dynamics of Hebrew Poetry in the Thirties", Studies in Honor of Dan Miron, Jerusalem: Bialik Institute, 2007, 921-943. (Hebrew)
"The Representation of War in Israeli Cinema", Israeli Cinema: A Reader, Austin: University of Texas Press, 2011, pp. 43-58.
"Violence and Love in the Prose of Yitzhak Laor", Ariel Hirschfeld and Sigal Naor Perelman (eds.) Essays about Yitzhak Laor's Oeuvre, Tel Aviv: Hakibutz Hameuchad, 2011, pp. 53-69. (Hebrew).
"Jew Animal Man: Aharon Appelfeld's Prose", Aharon Appelfeld: Twenty Four New Readings, Avidov Lipseker (ed.), Bnei Brak: Bar Ilan University and the Hartman Institute), 2011, pp. 315-336. (Hebrew)
"Anita Shapira's Brenner", Mitaam 23, (2011), pp. 77-84 (Hebrew)
"'The Zionist Eye': On the History of Israeli Cinema", Ot 2, Spring 2012, Tel Aviv University Literary Journal), pp. 5-29. (Hebrew).
"Primo Levi and the Figure of Ulysses", Jewish Social Studies, Vol. 18, No.2, pp. 40-69, 2012.
"Unravelling the Wars of 1948", Jewish Social Studies, Vol. 18. No.3, pp. 120-135, 2012.
"Only Yesterday: A Hebrew Dog and the Colonial Dynamics in Pre-Mandate Palestine", in: Philip Ackerman and Rakefet Zalashnik(eds.), A Jew's Best Friend, Brighton: University of Sussex, 2013, pp. 156-179.
"'I did not Betray': Moshe Dayan, the Security Style and the Cultural Conception of the Yom Kippur War", OT 4, Summer 2014, pp. 201-228. (Hebrew).
"On Captives and Captivity in Hebrew Literature", in Merav Mack (ed.) Captives, Jerusalem: Van Leer and Shazar Center, 2014, pp. 215-246. (Hebrew)
"'Zalmei Panim': Alterman and the Community of Ir Hayona", in Alterman Notebooks 5. Tel aviv: Hakibutz Hameuchad and Tel Aviv University Press, (forthcoming)
"Lagersprache: Primo Levi and the Language of Survival", Dibur, No.1 (forthcoming Autumn 2015)
"Ka-Tzetnik, Primo Levi and the Muslims", in Anette Timm, David Tal, Gideon Greif (eds.) Ka-Tzetnik: The Impact of the First Holocaust Novelist in Israel and Beyond, University of Toronto Press (projected publication 2016).
Films
Traces of Ida Fink, (a documentary film: Script, research and interview)Jerusalem Film Festival, Summer 2004
[אידה פינק: רישומים לקורות חיים, 2004 יוצר]
Translations
Pier Paolo Pasolini, Ideology and Poetry, Mitaam 24, pp. 172-176 (Translation)
Erri De Luca, Il Contrario di Uno, Tel Aviv: Hasifria Hahadasha, 2006 (Translation)