Campus Life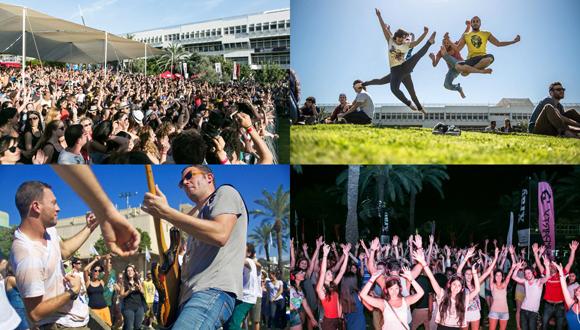 Situated in the heart of Israel's coastal region, Tel Aviv University resides on a spacious 220 acre campus. Located in suburban Ramat Aviv, just north of the city, the University is minutes away from downtown Tel Aviv. Tel Aviv University's proximity to the cultural and commercial capital of Israel allows students to absorb the best of Israeli society.
Green Campus at TAU
In a milestone for environmentalism at TAU, the university was accredited in 2011 as a "green campus" by the Israeli government, in recognition of its efforts to create a more sustainable institution. The accreditation is awarded to Israeli universities that implement programs in three key areas: academic degrees and courses in environmental studies (given by the Porter School of Environmental Studies), heightened resource efficiency through recycling and reduction of electricity and water use, and community-related projects that strengthen environmental awareness both on campus and off. Among the green innovations at TAU are more energy efficient lighting, the "Nature Campus" educational initiative, stands for the city of Tel Aviv's new bicycle rental system, and a comprehensive plan for campus bicycle paths.
TAU's support for sustainable projects on campus is further underscored by the Porter School of Environmental Studies' new EcoBuilding. The EcoBuilding is designed to meet the highest standards of green building, and will demonstrate innovative environmental technologies
Entertainment on Campus
TAU aims to make its campus a central venue not only for rigorous academic research, but also a wide range of exciting cultural and social events. Music concerts, film screenings, art exhibitions, poetry readings, and many other activities are held on campus. These are open to TAU students, staff, and often the general public.
The dynamic and ever-changing program of cultural and social events reflects the interests of the TAU community, and some highlights are outlined below.
Campus Thursdays
As Thursday is the last day of the Israeli working week, TAU encourages students and staff to kick off their weekend with a host of exciting events: gallery exhibits, film screenings, musical performances, and lectures on a variety of academic fields. Young artists are given the opportunity to showcase their work and the public is invited to share in these activities, which take place from early afternoon until late evening. Check which events are held in English on the Thursdays on Campus website.
Film Festivals and Screenings
Every two years The Tel Aviv International Student Film Festival, the largest student film festival in the world, takes place in Tel Aviv, organized from start to finish by TAU students and staff. Renowned actors, directors, and cinematographers deliver lectures and master classes as part of the festival. Hundreds of student films from all over the world are screened for festival goers.
Showcasing Student Creativity
TAU encourages students to take part in performances and creative events during their studies. The Department of Theater Arts and the Buchmann-Mehta School of Music put on performances jointly and separately, allowing students to demonstrate their creativity and hard work throughout the year. These achievements are enjoyed by the TAU community and the general public.
Rock Music on Campus
Every Wednesday, the largest outdoor venue on campus (the lawn in front of the Gilman building) comes alive with the sound of rock music! No need to buy tickets – students and staff can enjoy performances by Israel's leading young artists for free! Lunch al fresco on the grass is particularly recommended.